Duct Design & Replacement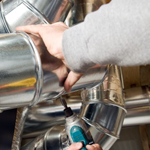 Do you experience poor airflow? Hot or cold spots in your home or business? Heating and cooling your crawl space or attic area due to air leakage? Expert Air Inc® can design and engineer a new duct system to provide proper airflow or find those expensive air leaks and seal your duct system accordingly.
Home Energy Magazine estimates average residential air loss through ductwork is 19.5%! Leaking ducts can not only affect your comfort but cause a significant utility cost and waste of natural resources.
A 15% return air leak from a 120° attic could reduce a 12 SEER (seasonal energy efficiency rating) system to 6 SEER!
A deficiency of 20% in air flow reduces the SEER rating by 17%.
Pacific Gas & Electric found the average heating energy savings for:
Repair of disconnected ducts was 15%
Repair of diffuser leakage 7.5%
Correcting low air flow 5.6%
Repairing leaks and correcting refrigerant charge 18.4%