System Maintenance & Safety Checks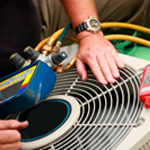 Expert Air Inc® can improve the efficiency of your existing system(s) as well as reduce repair frequencies with regular interval maintenance. Here are a few examples of problems that have been found by third party research and the benefits gained from correction:
A study by the Louisiana State University and Gulf States Utility found consumers could save about $30 per month just by making sure that their air conditioning system was cleaned and serviced regularly.
Home Energy Magazine found during an engineering study three main areas of concern:
Duct Leakage

Average loss per home = 360 cfm
Average loss (as % of sq. footage) = 19.5%

Refrigerant Charge

62 % were overcharged
23 % were undercharged

Sizing of the Unit

88 % were oversized
2 % were undersized
The North Carolina Alternative Energy Corp (non-profit organization) examined air conditioning manufacturers' efficiencies versus the actual efficiencies that resulted after installation.
90% of the units tested exhibited some sort of energy-wasting problem
50% had an improper refrigerant charge
40% failed to meet minimum air flow criterion. 20% were barely inside the range specified by manufacturers.
Texas A&M University found a 23% refrigerant undercharge could result in a 52% efficiency loss
Pacific Gas & Electric found the average heating energy savings for:
Repair of disconnected ducts was 15%
Repair of diffuser leakage 7.5%
Correcting low air flow 5.6%
Repairing leaks and correcting refrigerant charge 18.4%
Honeywell found that heat pumps lost almost 50% of their efficiency after 20 years, even if a typical "dust stop" filter was installed. In 20 years, a 12 SEER unit could degrade to a 6 SEER. This would double the energy cost!
NOTE: Maintenance tasks vary based on equipment type. Package units (all-in-one) have a different task list than split systems. Heat pumps and dual fuel (hybrid) systems have a different task list than gas furnace systems.
Cooling Maintenance
Check refrigerant levels and pressures
Inspect electrical motors and connections, measure amp draw
Inspect fan blades and blower wheels for wear and damage.
Check electrical relays, contactors, circuit boards, and all related electrical connections
Clean condensate drain
Clean dirt, debris, and leaves from inside cabinet of outdoor unit.
Check compressor, compressor connections and amp draw
Inspect condenser and evaporator coils
Check air filters
Inspect ductwork for air leakage
Verify safety devices intact and operational
Measure temperature split
Check thermostat calibration
Heating Maintenance
Perform electronic leak search for gas leaks
Check compressor, compressor connections and amp draw (heat pump)
Inspect condenser and evaporator coils (heat pump)
Clean dirt, debris, and leaves from inside cabinet of outdoor unit (heat pump)
Check air filters
Inspect ductwork for air leaks
Check refrigerant levels and pressure (heat pump)
Inspect electrical motors and connections, measure amp draw
Check electrical relays, contactors, circuit boards, and all electrical connections
Inspect heat exchanger
Verify proper gas valve operation
Inspect flue exhaust vent
Check draft inducer and record amp draw
Verify safety devices are intact and operational
Measure temperature split
Check thermostat calibration
Check humidifier and humidifier pad
Check auxiliary heat strips and measure amp draw & staging (heat pump)
Check condensate pump operation